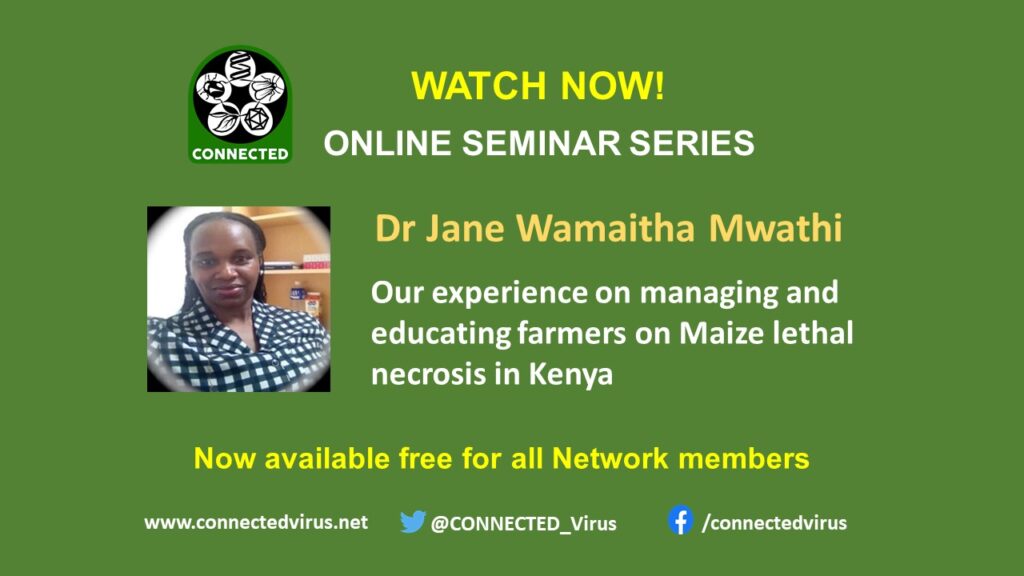 An online presentation by Dr Jane Wamaitha Mwathi entitled 'Our experience on managing and educating farmers on Maize lethal necrosis in Kenya' is now available to watch on the CONNECTED Vimeo channel.
Dr Mwathi is based at KALRO in Kenya and has an established track record in performing and analysing the causes of maize lethal necrosis disease (MLND) in Kenya. In the presentation, which formed part of the October 2021 CONNECTED Online seminar, Dr Mwathi  described her current research programme and her work on farmer engagement. She set out the background information on the discovery and spread of MLN in Kenya and described the combinations of virus that act together in this complex disease.
Recent work has shown that, in addition to potyviruses, polerviruses such as Maize yellow dwarf mosaic virus could also be involved. Dr Mwathi  also described the various insect vectors and range of plants that can harbour MLN causing viruses.
She described the metagenomics and pylogenetic analysis they have done on MLN-associated viruses, their prevalence across Kenya and their genetic variability. Dr Mwathi  is currently working to understand the epidemiology, host plants and vector range in areas of low MLN disease intensity.
Dr Mwathi 's work also involve engaging with farmers and farming communities through many different channels including farmer groups, local radio and plant health rallies where a range of advice is given on MLN management.  Lessons learnt from this work are then fed back into future training.
There was then a Q&A session facilitated by Dr Sylvester Dickson Baguma
CONNECTED network members can watch Dr Mwathi's presentation using this link. You will need to be logged in as a CONNECTED member on the device you are using.