CONNECTED has funded novel innovative multidisciplinary research in plant vector-borne disease.
To date, CONNECTED has run two pump-prime funding calls to encourage and support collaborations between the UK and Africa, resulting in 20 research projects. Check out some highlights from the many real-world applications and outputs from these projects.
New research translating six of these into real-world applications
In 2022-23 we are funding six of our original research teams to take their work further: exploiting, disseminating and translating it into practical applications.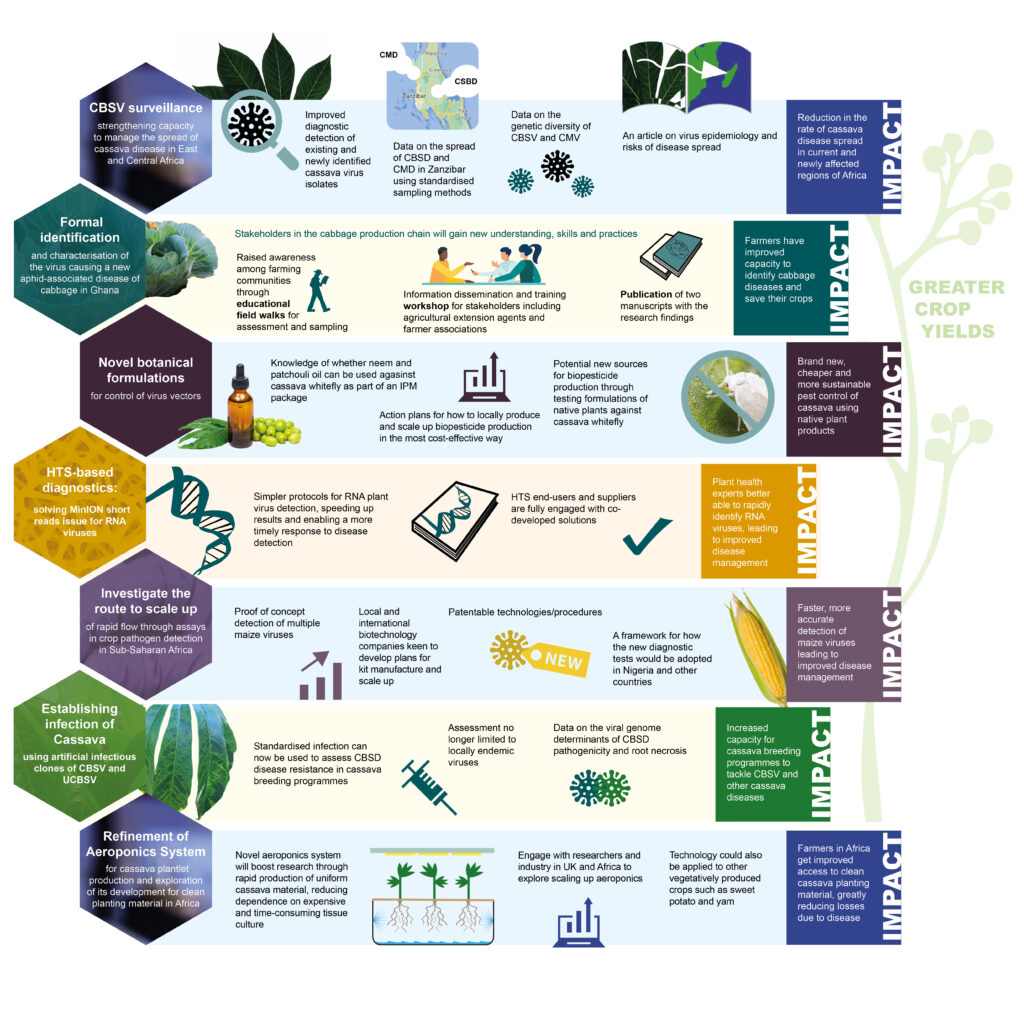 Watch short films about the 20 pump-prime funded projects
Improving disease resistance in Kenyan crops: cabbage and kale
Maize: a film about two CONNECTED pump-prime funded projects in Kenya, aimed at addressing maize disease
Impact
Funded projects deliver impact in Africa in the field of plant vector-borne diseases, directly contributing to the UK Government's Official Development Assistance (ODA) commitment which focuses on outcomes that promote the long-term sustainable growth of countries on the OECD Development Assistance Committee (DAC) list, and is administered with the promotion of the economic development and welfare of developing countries as its main objective.
As such, all CONNECTED pump-prime funding proposals included a main objective that promotes the economic development and welfare of a developing country or countries.
The full list of 20 funding awards resulting from CONNECTED pump-prime funding (PPF) call is shown below.
Amongst CONNECTED's objectives is enabling our members to successfully apply for research funding. The PPF projects provide an opportunity to generate pilot data or proof of concept work that can be used as the basis for future larger-scale funding applications by our members.
Pump-prime funding call 1
Developing eco-friendly insecticides
Low-cost surveillance for Sub-Saharan Africa
Understanding the spread of maize disease
Developing biopesticides against whitefly
Correlating disease symptoms with virus levels
Which insects transmit cassava viruses?
Improving disease resistance in Kenyan crops
Unifying Cassava Brown Streak Disease surveillance
Pump-prime funding call 2
Mechanisms of transmission of cocoa swollen shoot virus by two species of mealybug vectors
Identification of mealybug vectors involved in the transmission of Dioscorea bacilliform viruses infecting yam in northern Nigeria
Formal identification and characterisation of the viral pathogen causing a new aphid-associated disease of cabbage in Ghana
Cucurbit viruses and their control in the small-scale farming communities of Zimbabwe
Modelling of cassava brown streak virus spread by the insect vector Bemisia tabaci
Occurrence, distribution and molecular diversity of viruses on groundnut crops in Kenya
Identification of vectors transmitting viruses in tomato in Uganda
Characterising viral diversity in vegetable crops to enable targeted resistance breeding
Rapid and inexpensive diagnostic tools for virus disease surveillance in sub-Saharan Africa
The prevalence of 'plant-vectored' insect-pathogenic viruses in Kenya and their potential for bio‐control of plant virus vectors
Tracking genetic diversity and development of diagnostic tools for maize lethal necrosis viruses in Uganda
The institutions involved are:
African Regional Postgraduate Programme in Insect Science, University of Ghana
Bindura University of Science Education, Zimbabwe
Centre for Agriculture and Biosciences International, Kenya
Centre National de Recherche Agronomique, Cote d'Ivoire
Chinhoyi University of Technology, Zimbabwe
East-West Seed, Thailand
Fera Science, UK
ICRAF (World Agroforestry Center), Cote d'Ivoire
International Institute of Tropical Agriculture, Nigeria & Tanzania
International Potato Center, Peru
Kebbi State University of Science and Technology, Nigeria
Keele University, UK
Kenya Agricultural and Livestock Research Organization
Makerere University, Uganda
Mars Cocoa, USA
Masinde Muliro University of Science and Technology, Kenya
National Crops Resources Research Institute, Uganda
Natural Resources Institute, University of Greenwich, UK
Newcastle University, UK
NIAB EMR, UK
Russell IPM Integrated Pest Management, UK
Rwanda Agriculture Board
Syngenta Seeds BV, Netherlands
The James Hutton Institute, UK
University of Aberdeen, UK
University of Bristol, UK
University of Cambridge, UK
University of Ghana, Soil and Irrigation Research Centre, Ghana
University of Nairobi, Kenya
University of Warwick, UK
University of the West of England, UK
Wesley University Ondo, Nigeria
World Vegetable Center, Mali
View a PDF poster of this information, including more images
Pump-prime funding summary
The full list of funding awards resulting from the first CONNECTED pump-prime funding call:
---
Member login